1. Book a decent photographer.
I know, bit of an obvious one to start with. But hear me out. I know it's not cheap, and you might have a relative or a friend with a 'proper camera'….BUT….you get what you pay for with wedding photography. You're paying for decent kit, expertise and creativity.
These pictures will one day become all you have left to relive that big day with. You'll show them to your kids and look back on them in years to come whilst marvelling at how young, carefree and IN LOVE you looked. They'll hold memories of relatives who won't be around forever. They're an important investment.
So…by decent, I don't just mean book ME (though that would be awesome, obviously), I mean do your research! Look for photographers that shoot in the style you like – do you love light and bright style of photographs or something with darker, more dramatic tones? Do you prefer pure documentary, or something more creative?
Have you spoken to your photographer before booking them? For me it's SO important that you both like and trust your wedding photographer. You want the reassurance that they'll do an epic job with minimal fuss on the day. You want to know they'll have put in the ground work with you, that they know exactly what your expectations are and have managed them accordingly, if necessary. And you want to know that they're going to be polite and respectful to your relatives and guests, don't you?
2. Trust them
Once you've chosen your photographer, make sure you've asked all your questions before booking them. There's no such thing as a daft question when it's something you've no experience of. A photographer worth their salt will listen to any creative ideas and suggestions you have, and will advise if it is or isn't going to work out. But it's best to have these discussions in advance of the big day to ensure things run as smoothly as possible. They will also talk to you about your plan and timings for the day, so that they in turn, can ensure they don't miss anything important!
3. Have a pre wedding shoot
My next top tip is to meet your photographer and have a few photos taken before the big day. Some photographers will offer this as part of their packages and others will charge extra for it. Either way, it's a great opportunity for you to meet in advance and air any concerns. Camera shy? Your photographer doesn't want you to feel awkward any more than you do, so the best thing you can do here is communicate and tell them how you feel. They'll take any concerns into account and work their magic.
4. Consider investing in a second photographer
Back to the big day now and timing is EVERYTHING! Your photographer would usually want to arrive to capture some getting ready pics, some of the guests arriving and the nervous looking groom ahead of the ceremony. However, things don't always run to time and that could mean important shots like the Groomsmen getting ready being missed. Most photographers will have a "second photographer" option in their packages as it's helpful for these situations. It also means two different perspectives on the ceremony and the speeches. Your photographer will make sure the person they bring as their "second shooter" is well equipped, can take fantastic photos and fits with their business brand and ethos. For example, I often have my husband as my second shooter – I taught him how to photograph weddings and he takes the most incredible detail shots.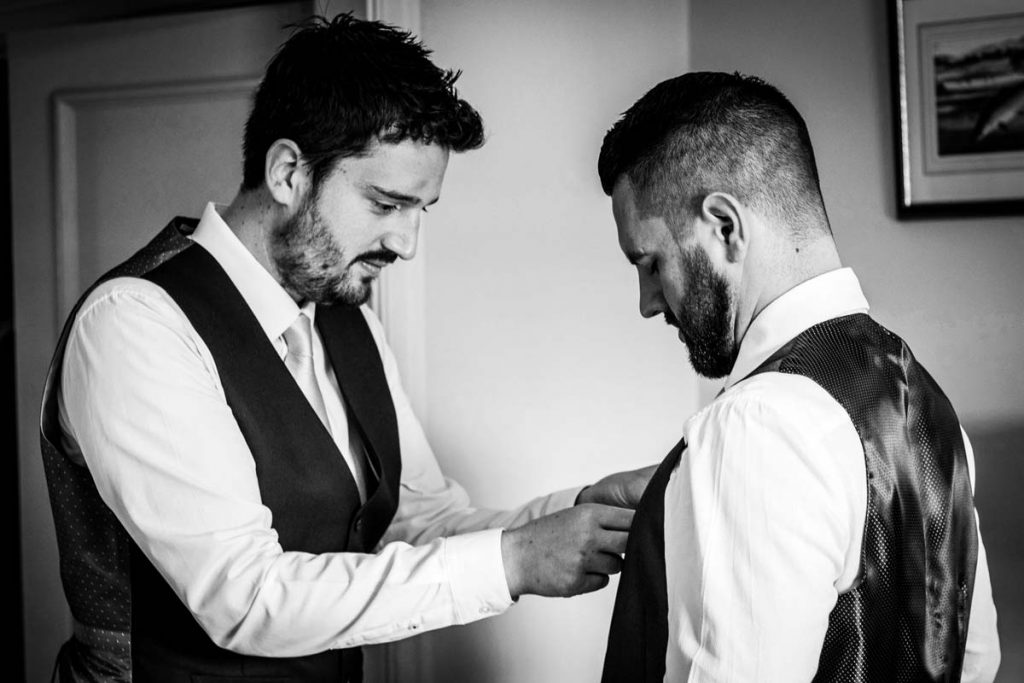 5. Think about your ceremony
I'm talking purely from a photography point of view here, there's zero judgment from me on what sort of ceremony you'd like to have….but does the venue you say "I do" in have sufficient space for a photographer? Is there any natural light and does the person conducting your ceremony allow for photographs to be taken throughout? Most of the couples I have photographed said they didn't realise the importance of these photographs, but for me I shoot continuously to capture the wonderful array of facial expressions and all the emotion of the most important moment of their lives so far!
6. Think about the light!
By this, I really mean consider the time of year you're getting married and how much daylight there is. Me and my husband chose the end of April because it meant decent evening light and we managed to sneak out for some beautiful "Golden hour" shots after the Wedding Breakfast and speeches were finished. However, if you have your heart set on these and you're planning a December wedding, your golden hour is at about 3:30pm and very much weather dependant.
With that in mind, you need to consider and ask your photographer what their plan is for photographing in the dark, and what equipment they have for it.
Also, if you're getting married in the UK you have to have a plan for the British weather, so make sure the venue you choose has lots of lovely light areas inside that you'd be happy to have your wedding photographs taken in.
7. Allocate some time for your bride & groom shots
This can be so tricky, because you've just got married and you want to party with your guests. However, the best time to capture some gorgeous bride & groom shots is usually whilst the guests are busy with welcome drinks and canapes. Ideally, you'd want to allocate 30-60 minutes of your day just for this. But think of the benefits – a little bit of time for you to enjoy with each other AWAY from your guests and lots of stunning photographs of you on the happiest day of your life.
8. Think about your "best side"
I learnt this the hard way. Not a best side of me as such, but I wore a beautiful jewelled hair piece which hardly made it into any of my photographs because it was on the right side of my head and the photographer mainly photographed me from the left, so that my wedding rings were visible. Some people tell me they do have a "best side" though and that's fine – we can work around that, so long as you don't both have the same side as your best side! On a serious note, your photographer won't want you to dislike any of your pictures, so please make your photographer aware of you have a feature or body part you'd like to minimise and they will advise you how to pose accordingly.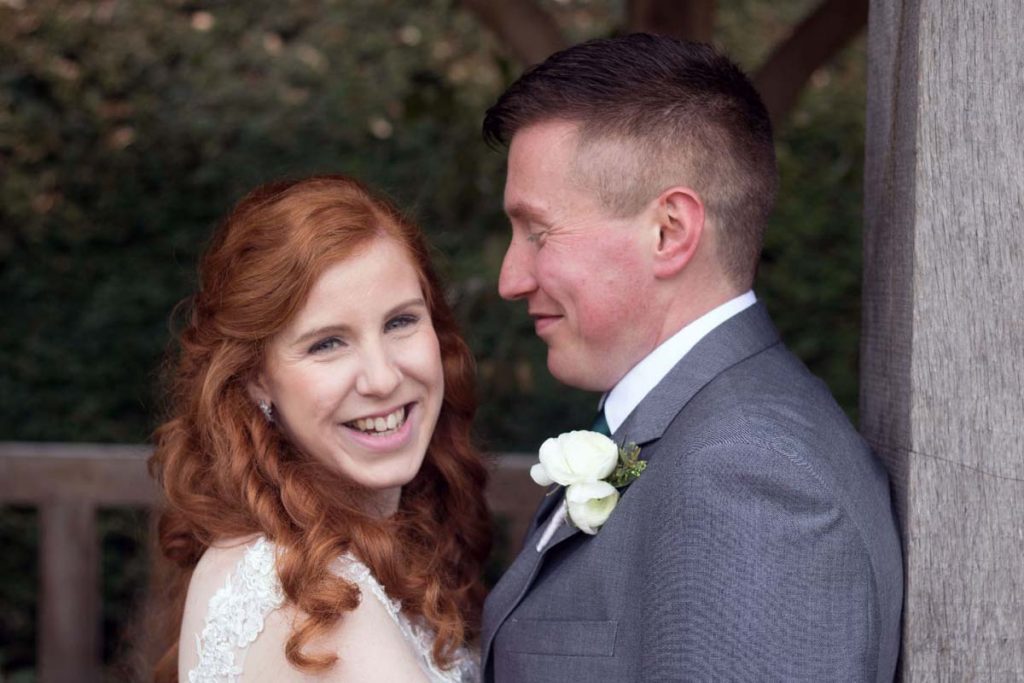 9. Limit the number of group shots
You will thank me for this one because your face will start to ache with all that smiling, plus you want to enjoy one of those welcome drinks for yourself, right?
I'm a big believer that group shots ARE in important feature of your big day. Your parents, relatives and loved ones will expect them, and they want one for their wall. BUT – you could need to allocate around 10 minutes per group photo….and that's on top of your bride & groom shots. I'd advise keeping the group shots below about 6 and that's including the full wedding party.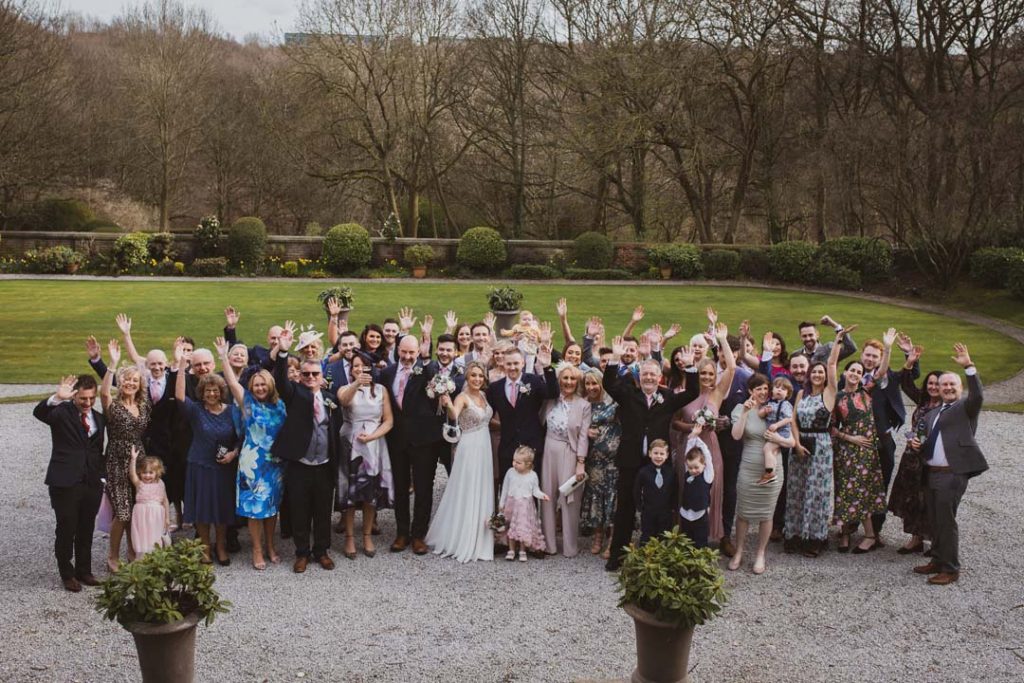 10. Consider an "unplugged" wedding
Or even just the ceremony. What does that even mean, I hear you ask. It's where your guests are just enjoying the moment and not filming your entire ceremony on their phones or snapping away constantly and obscuring the view of your real photographer / videographer. That's what you've paid us for, right? Yes I have had many an occasion where someone has leapt in front of me at a key moment to snap something on their phone.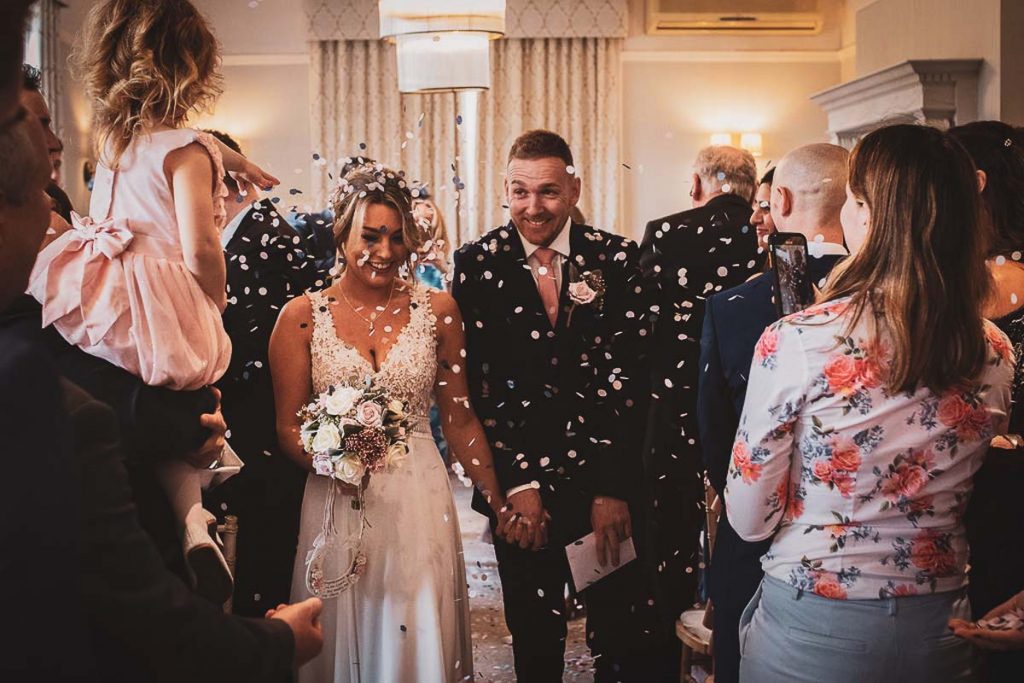 On that note….
11. Is that an iphone 11 in your pocket or are you just pleased to see me?
Gents, trust me, you do not want your wallet or iphone bulge present on your photos. These things really show up on a well fitted suit….so find someone you trust to look after them for you!
12. Last but not least…..feed them!
Photographing a wedding for 10+ hours is no easy feat and your photographer will be on their feet for most of that time. Whilst we don't expect a seat on the table plan or even the same food as your guests, it's really very kind if you ask your venue / caterer to feed us too. And ideally at the same time as your guests so we're ready for action as soon as you need us to photograph your speeches.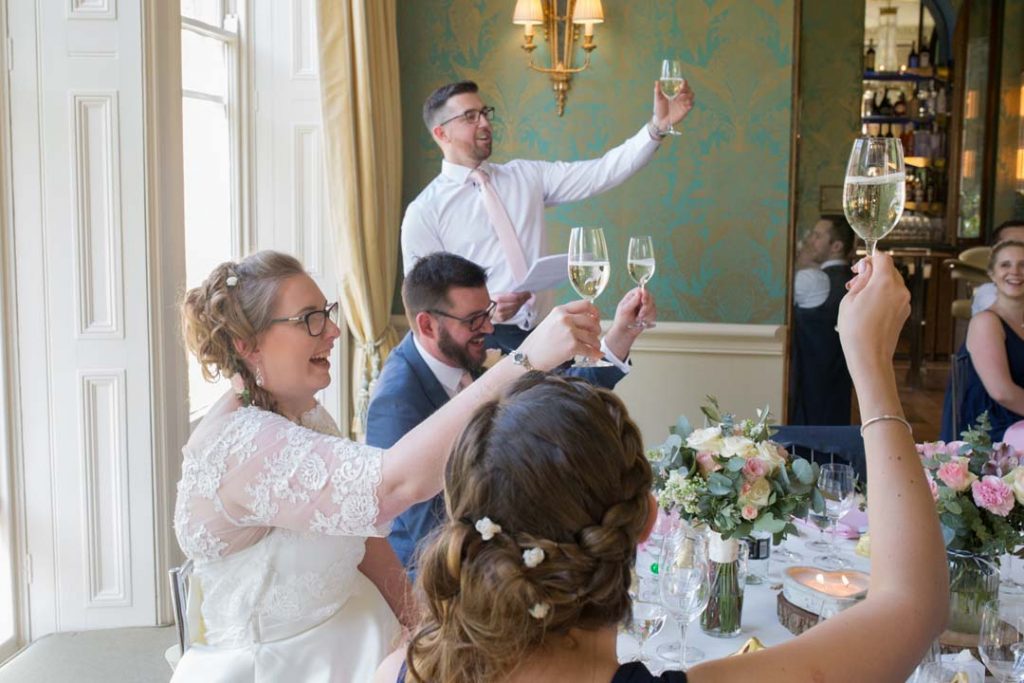 I hope that's given you plenty of food for thought (not just the last point) and if I can be of any help in discussing photography for your big day, then I would LOVE to chat! You can contact me at hannah@hannahbrookephotography.co.uk or give me a good, old-fashioned call on 07779 271447.