Lineham Farm in Leeds is a beautiful DIY wedding venue set in stunning woodland. It's the perfect spot for laid back couples looking to do their wedding, their way.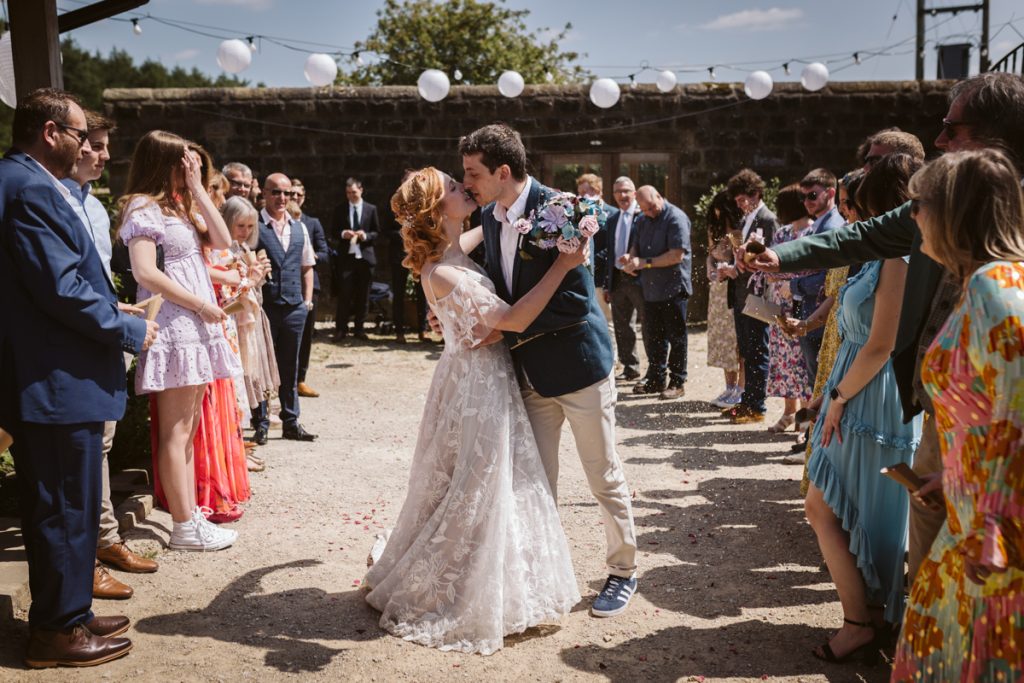 A total blank canvas venue, Lineham Farm is the perfect venue for those seeking non traditional weddings. A children's activity centre through the week, it can be hard to visualise it set up for weddings. So allow me to show you exactly what Jonny and Kayleigh's Lineham Farm Wedding looked like!
The couple!
Lovely Jonny and Kayleigh. I didn't know this when they booked, but Jonny is actually a super talented photographer himself, and Kayleigh the daughter of one of my old work colleagues!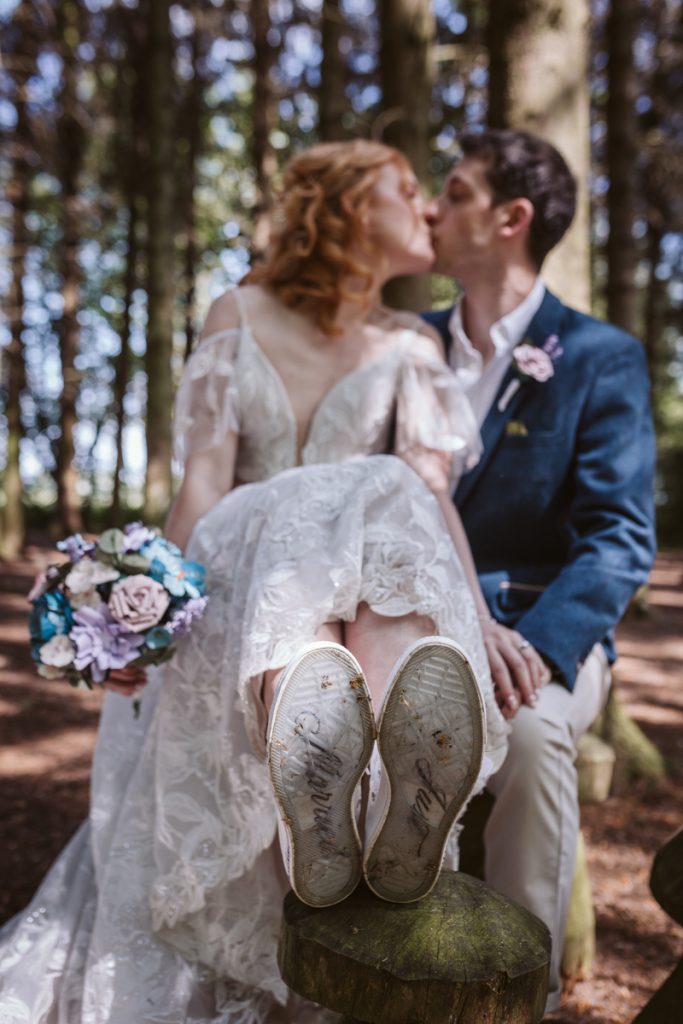 How they styled their non-traditional wedding
This wedding was chock full of details beautifully personalised to the Bride and Groom. The beauty of Lineham Farm Weddings, is that you can tailor it to any theme you want.
And Jonny and Kayleigh had a strong theme of musical theatre, and pokemon running through their day! The day was broken into Act one and Act two, the bouquets crafted out of paper musical manuscripts, and the cake creation was Pokemon.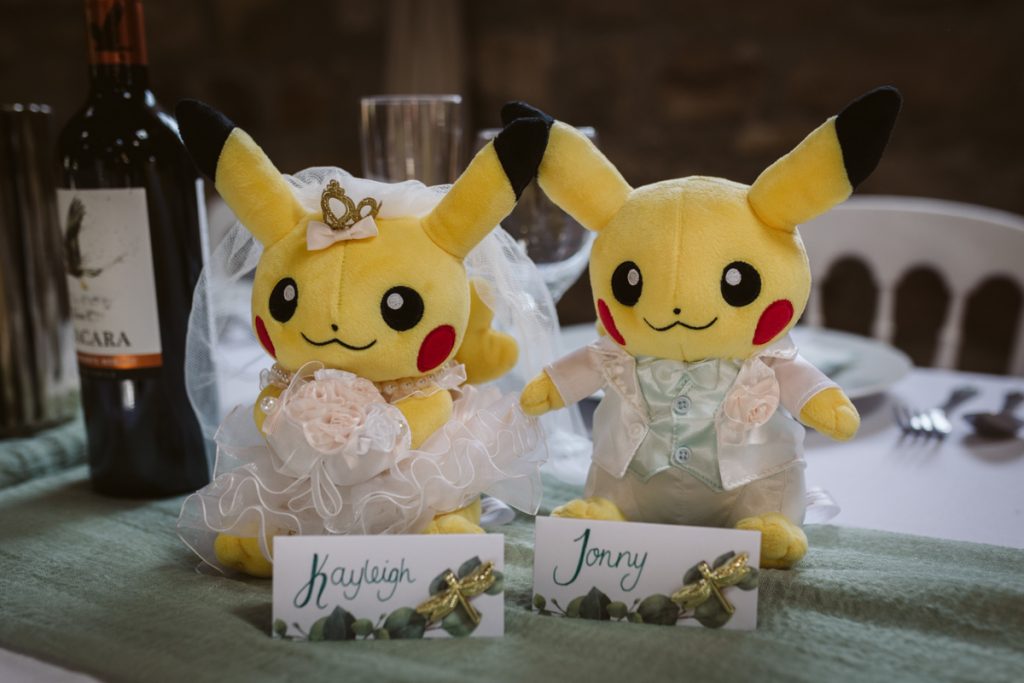 The accommodation
Unlike lots of farm based wedding venues I've been to, Lineham Farm has plenty of on-site accommodation. Between the Farm House and bunk barns, there's room for 50 guests including the happy couple! And in summer months, there's a dedicated camping field – yippee!
Kayleigh's bridal prep took place in the homely Farmhouse. You can find all the details for the suppliers Kayleigh used at the bottom of this post.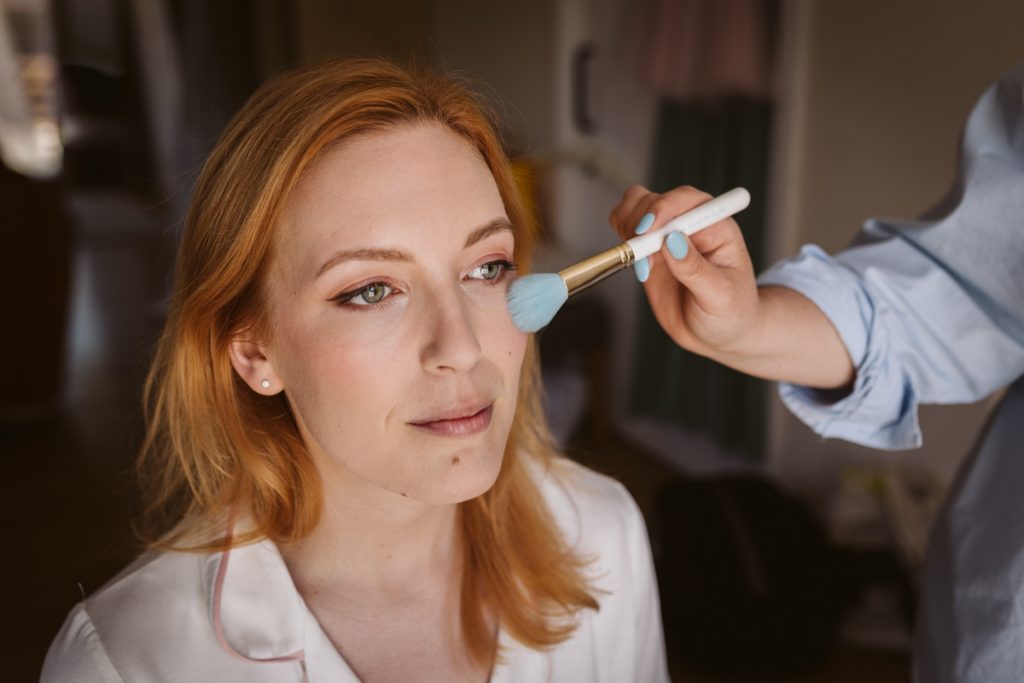 The first look!
Jonny and Kayleigh decided to have a first look away from the ceremony. These are a staple of American weddings and they're definitely making their way across the atlantic. It takes the pressure off it being at the end of the aisle, and also means you see each other BEFORE your guests do. And bar your photographer being there to capture all the moments, it's a lovely private moment between the two of you, without the distraction of everyone else!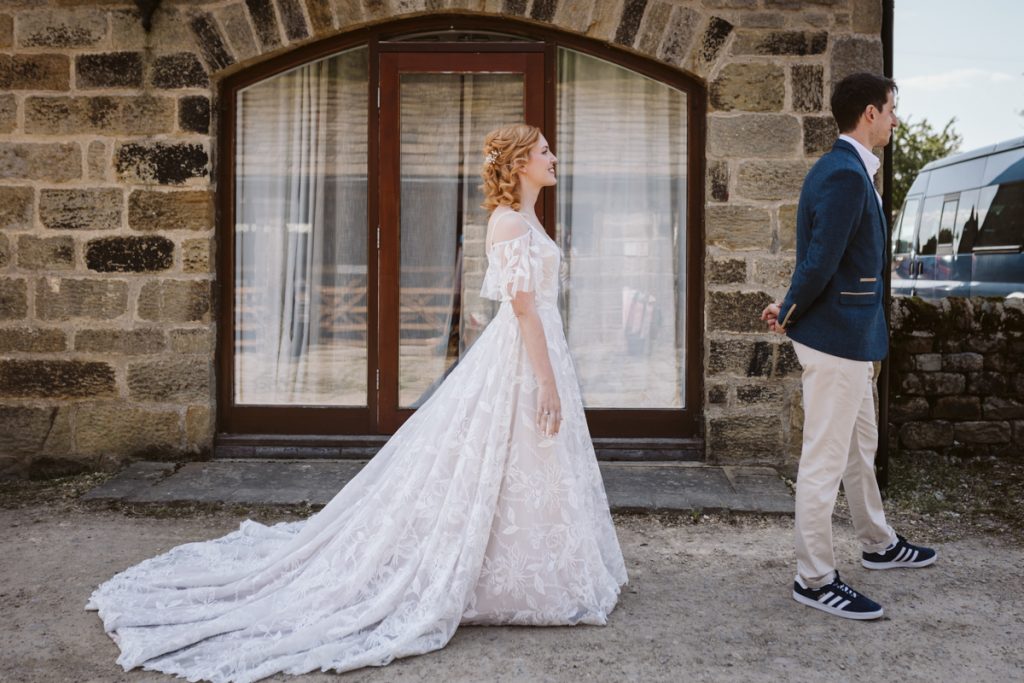 A family led ceremony
Lineham Farm weddings are licensed for both indoor and outdoor ceremonies. But, Jonny & Kayleigh wanted a non-traditional wedding, and with the legal knot tied a day prior, had a wonderful family led ceremony. All four parents contributed anecdotes, advice, humour and led a wonderful, personal ceremony. As always, I took the approach of documenting their key moments, facial expressions, and reactions.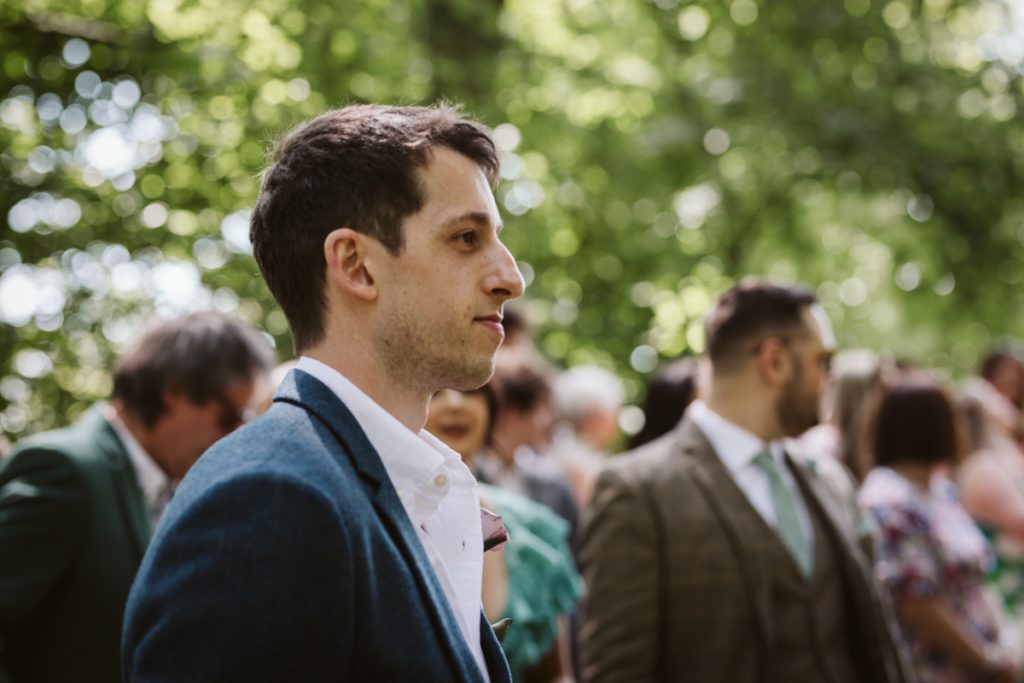 The couple came straight to the courtyard for confetti and group shots. Although, with it being a super, bright and sunny day, we had to seek shade for some of the family photographs.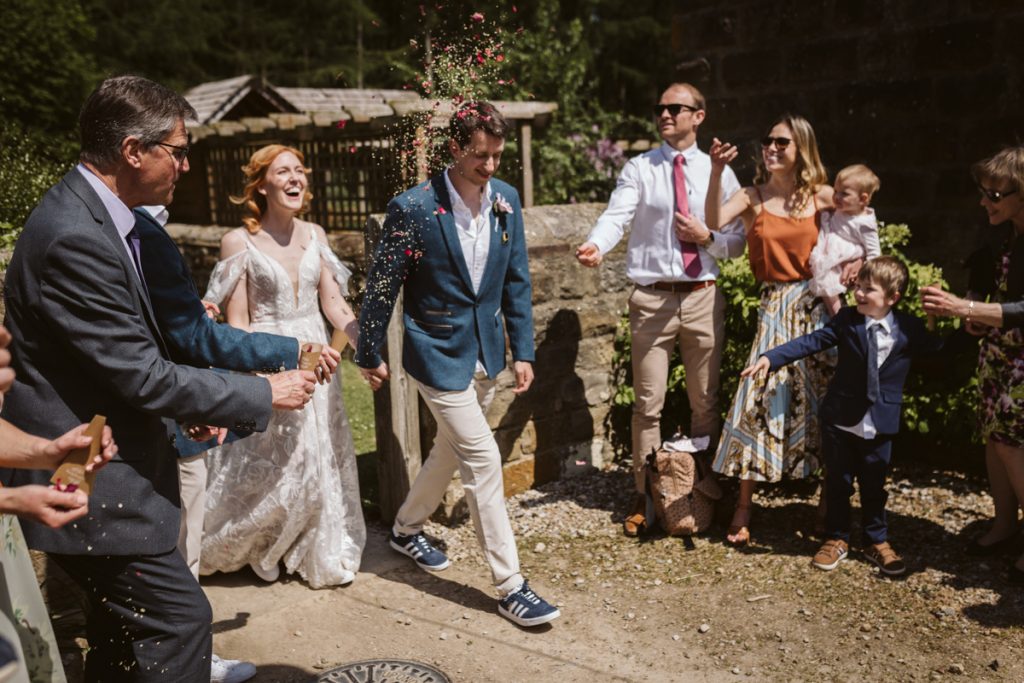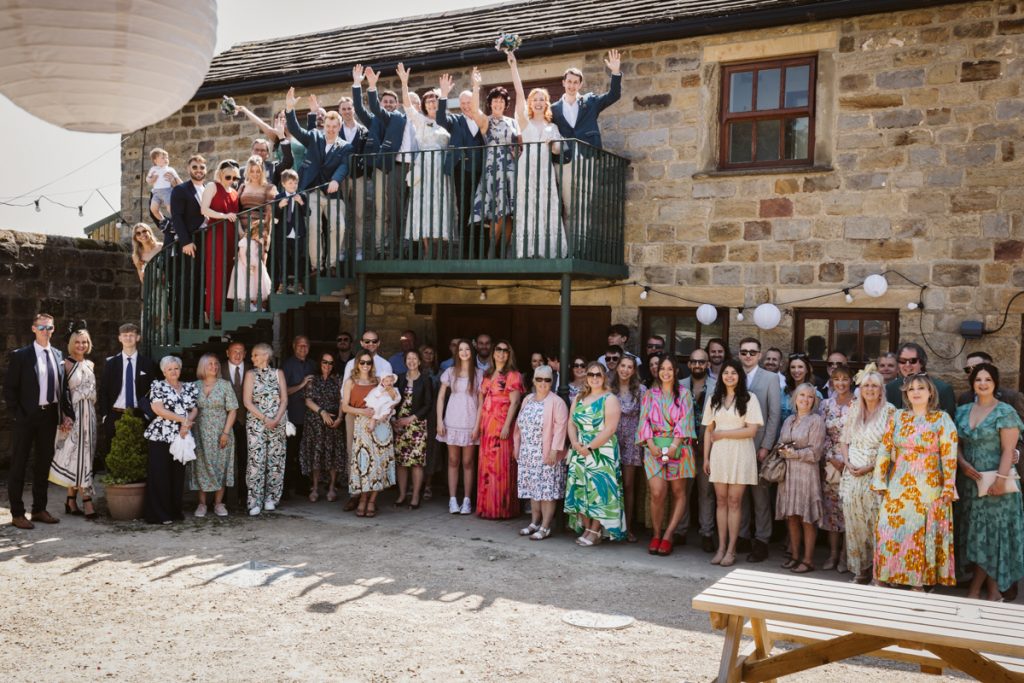 The wedding breakfast
Another beautiful feature of this blank canvas wedding venues, is that you hire in your own caterer and bar team. Which means, endless possibilities on cuisines and food. Jonny and Kayleigh chose sharing platters by the fabulous Simmer Kitchen, and I can confirm it was ALL delicious!
The speeches were everything a good set of wedding speeches should be – entertaining, interactive, thoughtful and borderline inappropriate. All great ingredients for me getting a great set of reaction shots!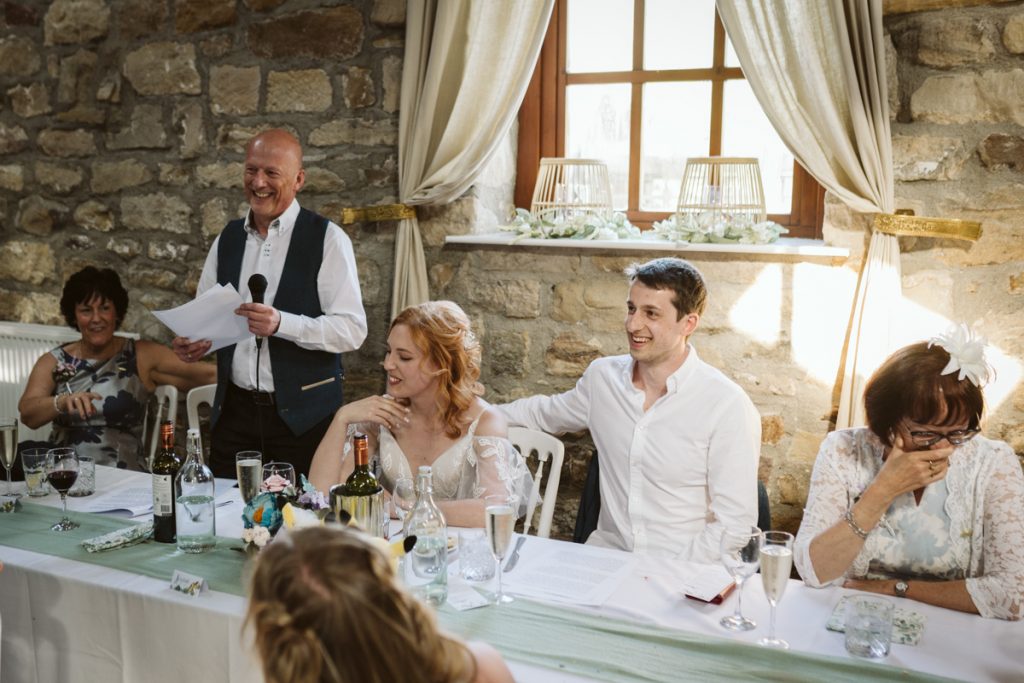 Golden hour!
A beautiful sunny day means only one thing – stunning golden hour photos! Need I say more? And there are no shortage of locations for them at Lineham Farm Weddings!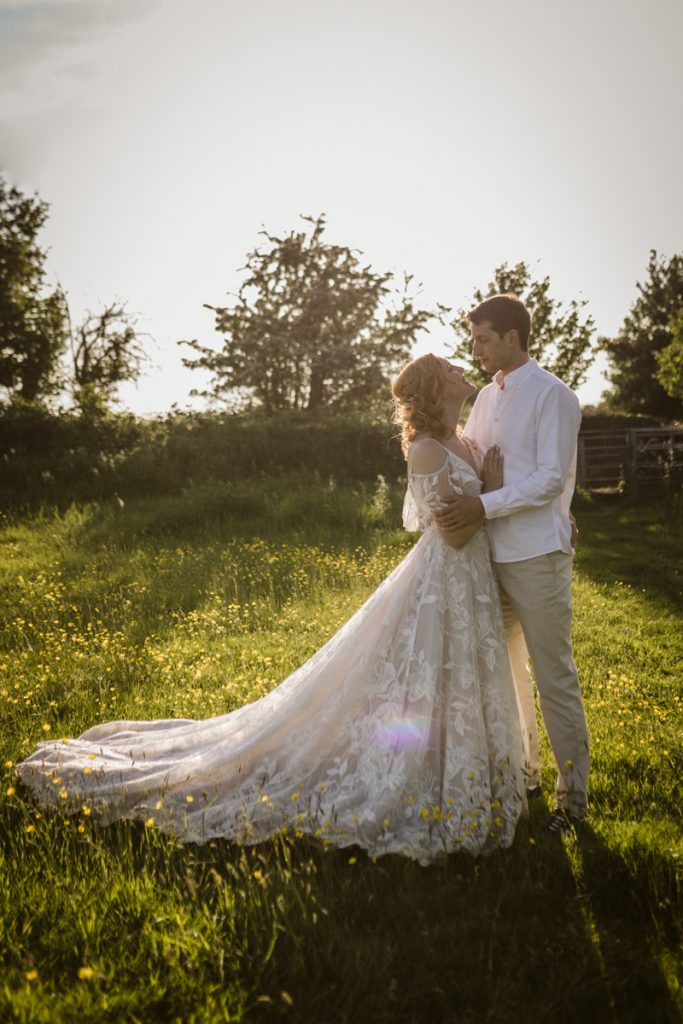 Dancing the night away!
Jonny and Kayleigh surprised their guests with a secret choreographed routine! So much fun and a great way to really get the party going! I always stay for around an hour after the first dance to get plenty of dance floor party action.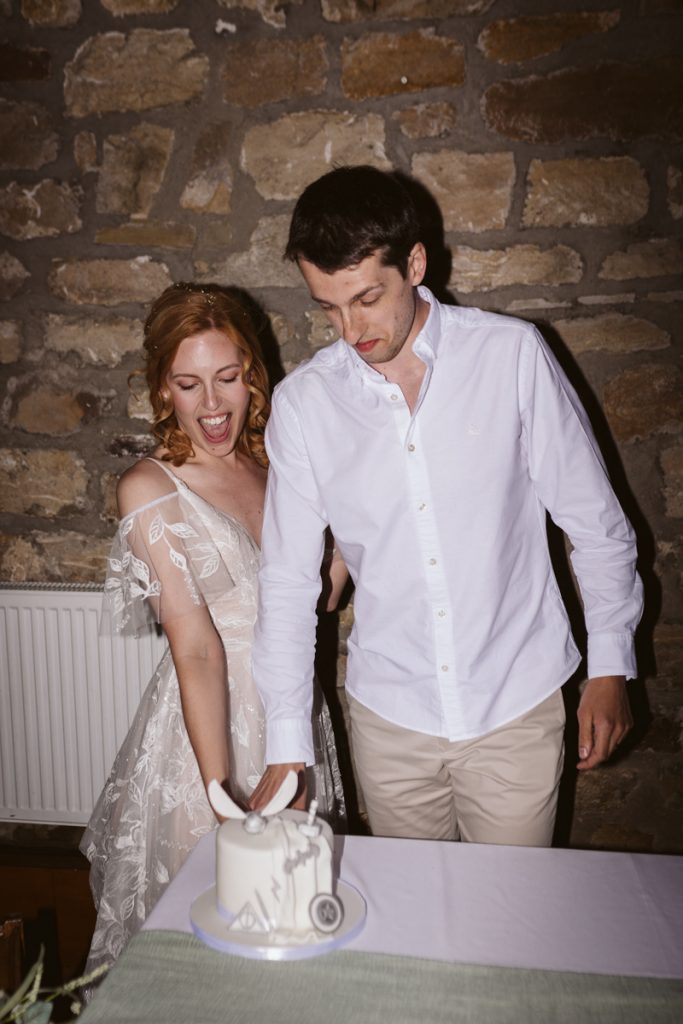 Enjoying reading about Lineham Farm Weddings?
Have a look at this blog from Sarah & Ben's Lineham Farm Wedding in 2022
Suppliers:
Venue – Lineham Farm
Photographer – Hannah Brooke Photography
Planner – Natalie Johnston Wedding Planning
MUA – Rebecca Jones wedding make up
Hair – Hair by Kirsty Clancy
Dress – Madi Lane Bridal from The Harrogate Wedding Lounge
Hair accessories – Victoria Walker Boutique
Flowers – Page and Bloom
Suits – Marc Darcy
Cake – Stace Cakes
Catering – Simmer Kitchen
Bar – Liquor Lab events