The venue
Beth & Stu chose to marry at Jervaulx Abbey Weddings in North Yorkshire. A unique Yorkshire wedding venue steeped in history and decorated with its own wildflowers. This ruined Abbey has the backdrop for so many stunning photos. so my excitement was palpable to photograph it.
Jervaulx Abbey Weddings is licensed to hold legal wedding ceremonies in its ground, and then the paddock is used for a marquee or tipi for the ongoing celebrations.
Getting ready
Jervaulx Abbey Weddings recently added shepherd hut accommodation on site, so the boys got ready on site and the bridal prep was at Beth's parents house in a local village.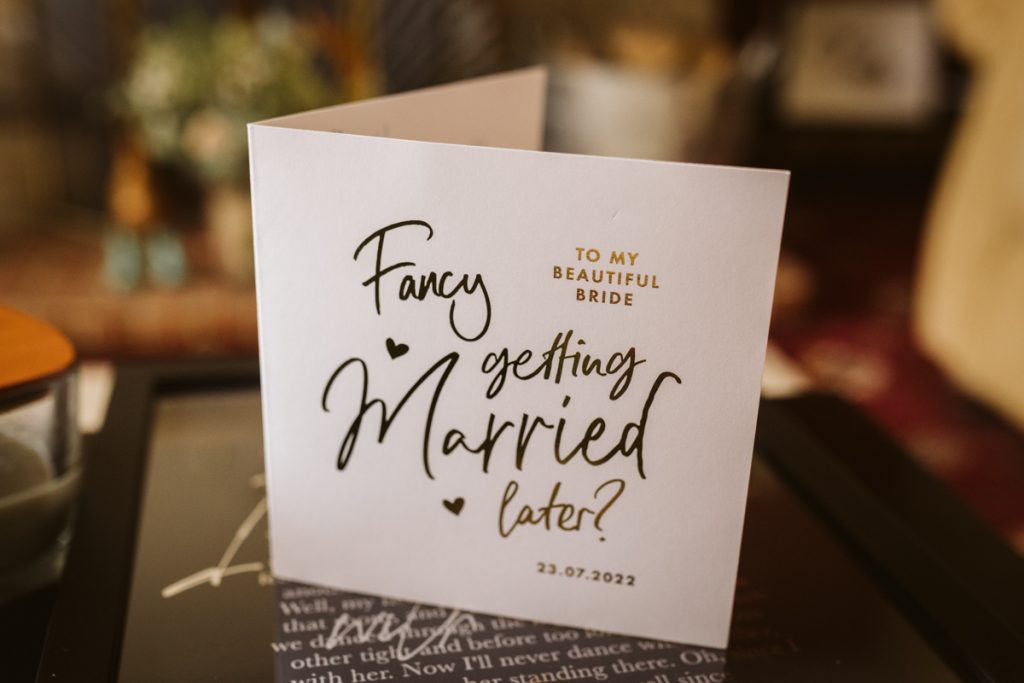 The ceremony
The thing with this unique wedding venue is Jervaulx Abbey Weddings is a ruin and has no roof. So if it rains….you better bring umbrellas. Seriously, there was a stretch tent that the ceremony could have taken place under – but our loved up couple wanted an outdoor ceremony. And it actually photographed way more beautifully than it would have under cover. And actually, I always take those clear plastic umbrellas to every wedding – it was nice to be able to use them!
Beth & Stu did the legalities a couple of weeks before and then had a beautiful intimate celebrant led ceremony conducted by Ceremonies by Sel.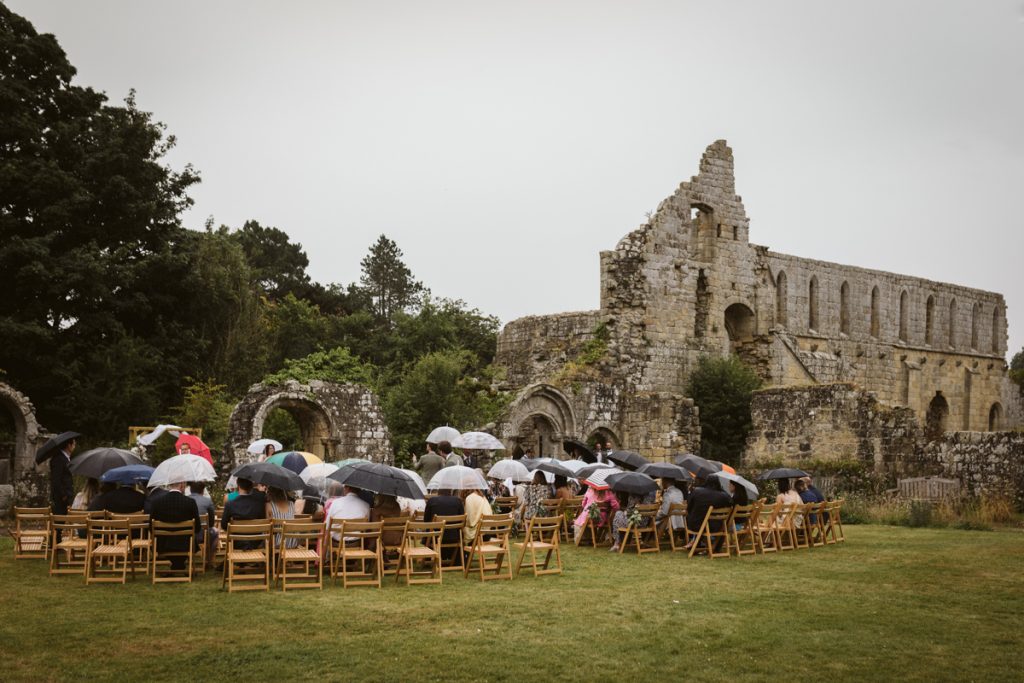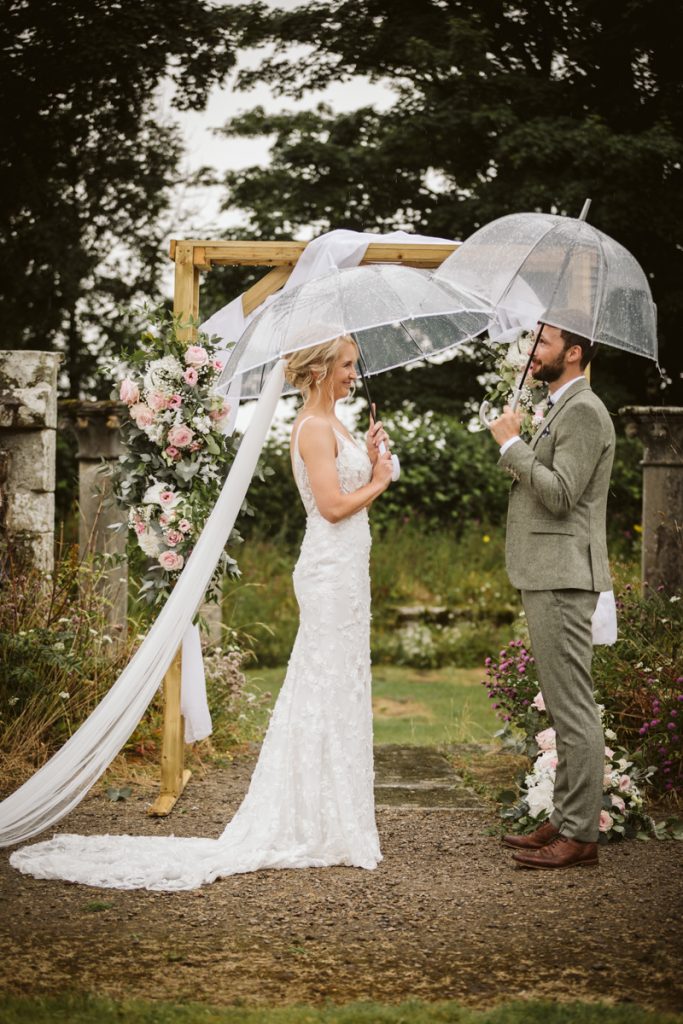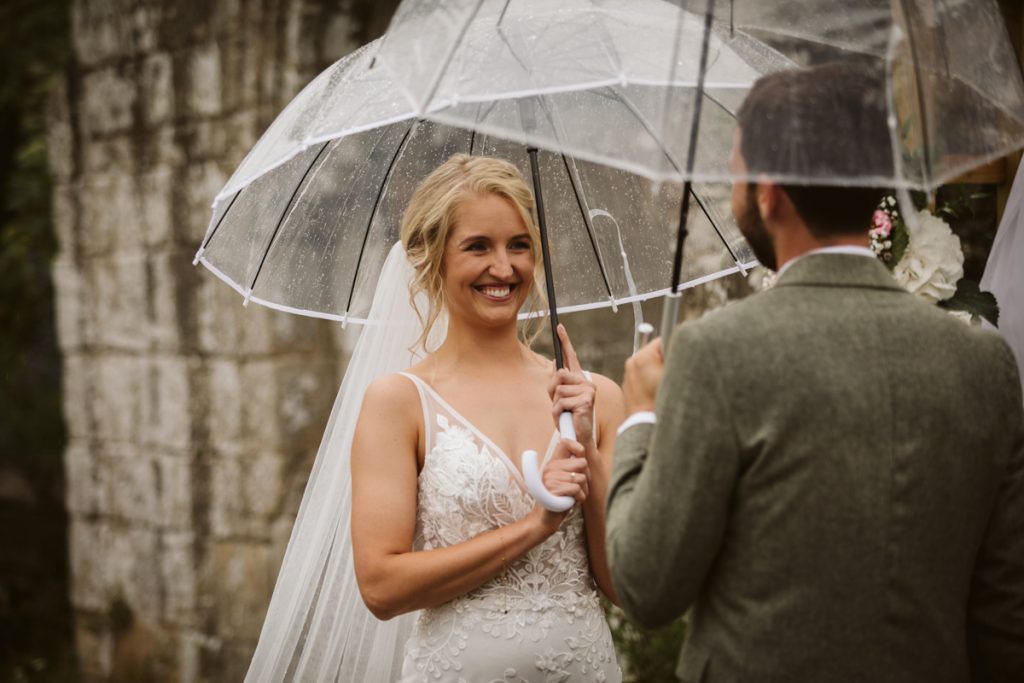 The photo opportunities
The rain slowed to a drizzle right after the ceremony, so whilst the party took shelter under the stretch tent, I was able to explore this unique yorkshire wedding venue with Beth, Stu and their whippet Vinnie. Like, I say, no shortage of photo opportunities at Jervaulx Abbey Weddings.
Speaking of Vinnie, Bow wow vow were the dog chaperone service used to bring him to the wedding for some photographs, before taking him home and looking after him while Mum & Dad partied.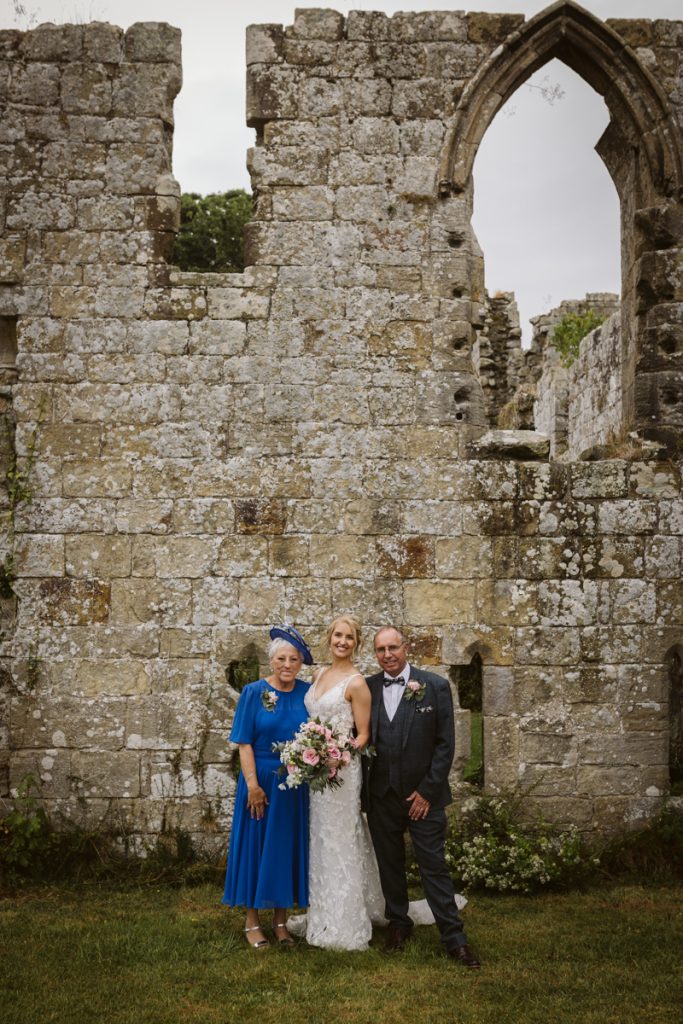 The Tipi / Wedding breakfast
As mentioned previously, Jervaulx Abbey Weddings has no roof – so you'll need to hire a marquee or tipi for your party. Beth and Stu chose a beautiful tipi for their wedding. (Side note – I love tipi weddings and wrote a blog all about planning your tipi weddings earlier.)
This pair of self confessed foodies chose catering was by Nomad Catering by James Brown and I can confirm that all of their food is excellent.
The speeches were just the right mix of funny and emotional too.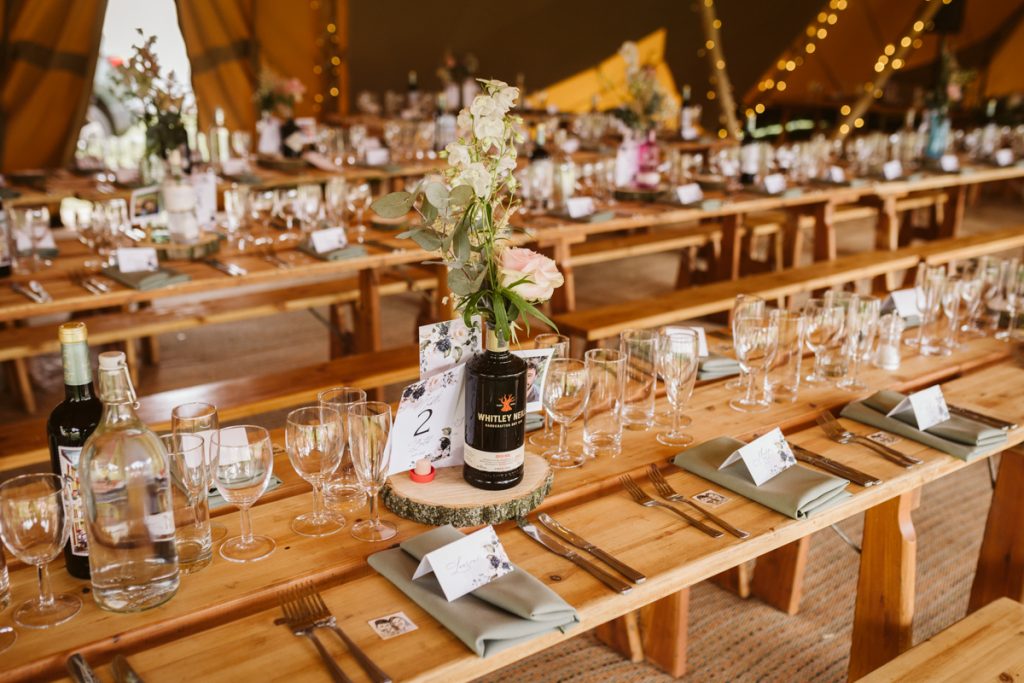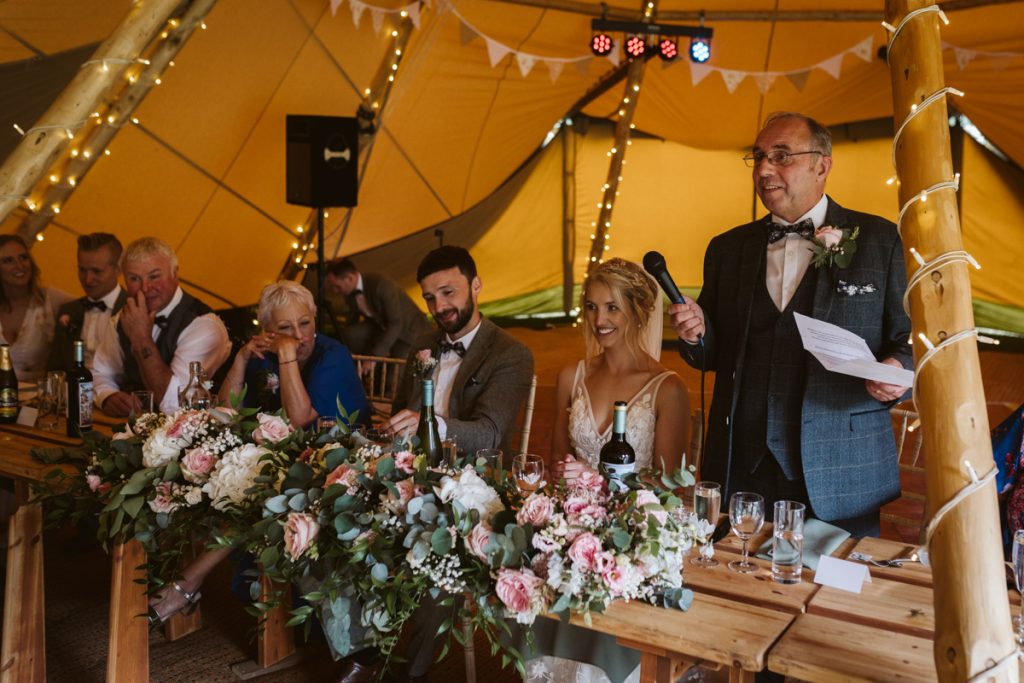 Golden Hour
This was a party that started mid afternoon and never stopped! By the time the meal finished, a beautiful Golden Hour had set in at Jervaulx Abbey Weddings. And whilst Beth, Stu and I went for a few more photographs at this unique yorkshire wedding venue, the guests enjoyed the traditional lawn games!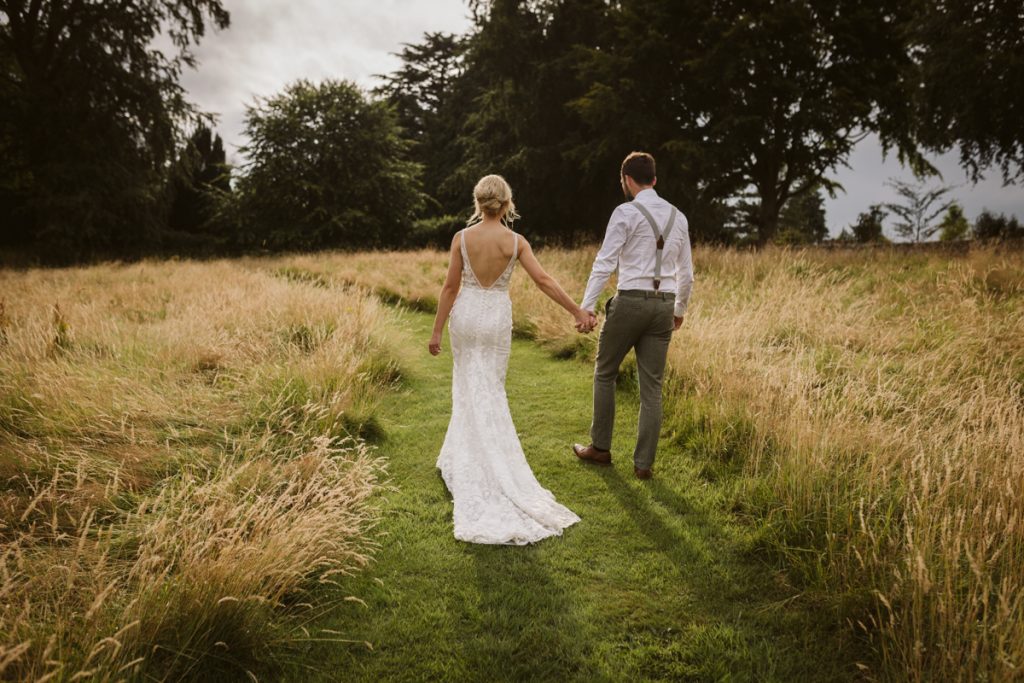 Last but not least – the party!
I knew from mid afternoon that this was going to be an epic party and this crowd didn't disappoint. Downton Underground band provided the music and the guests provided the dancing!
Jervaulx Abbey Weddings – what an amazing day!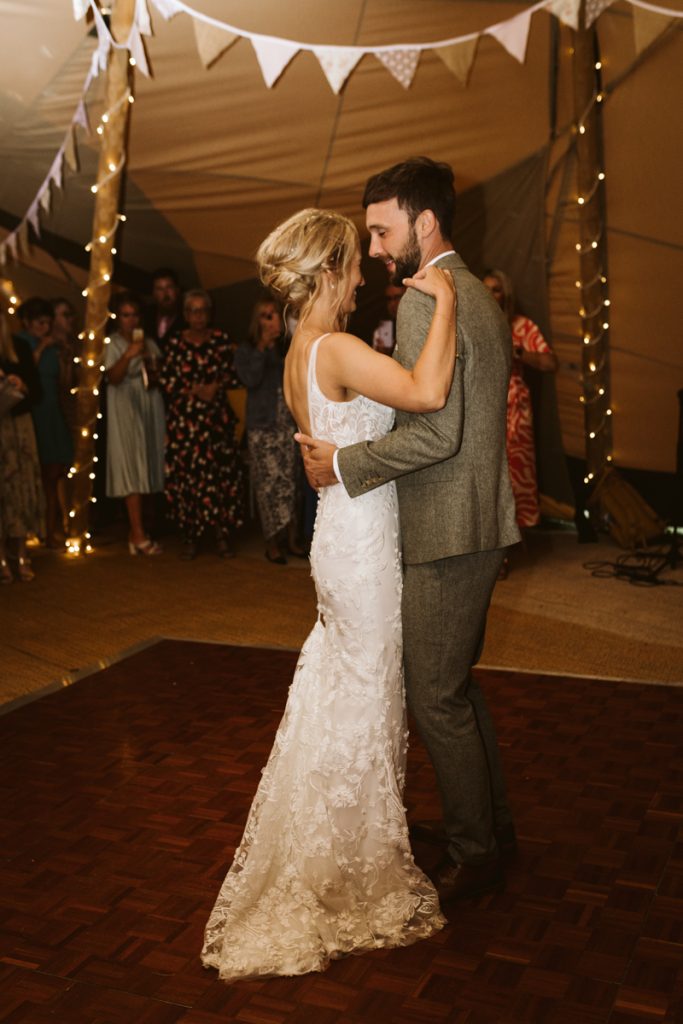 The suppliers
Here's the links to the instagram accounts of all the lovely suppliers (including me!)
Venue @jervaulxabbeyweddings
Photographer @hannahbrookephoto
Hair @hairbyria
Make up @gillkit06
Dress @madewithlovebridal from @theaislebridal
Flowers @feather_and_fern
Celebrant @ceremonies_by_sel
Catering @nomadcateringjb
Cakes @wheretheribbonends
Dog chaperone @bow_wow_vow
Contact me
If you love my style of photography, which I hope you do, you can contact me to chat about your wedding here.